[vc_row][vc_column][vc_column_text]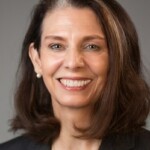 Dr. Suzanne Martin, PT, DPT is a physical therapist and Pilates expert with a private practice in the SF Bay Area, Total Body Development. She has authored four titles on fitness for DK Publishing, a division of Penguin Group, and has a new book coming out in early 2018 through Handspring Press.  She has written regular columns on health topics for Dance Magazine, Pilates Style and Dance Studio Life.
Suzanne presents workshops and master classes worldwide and in the US, through Balanced Body University, the PMA and other providers, as well as through her own company, Pilates Therapeutics LLC. Pilates Therapeutics is an education company, formed in 2002 to produce and distribute educational videos, workshops and continuing education courses, designed to present the Pilates Method as a rehabilitation modality for a variety of health and fitness conditions.
Pilates Therapeutics LLC is an approved Continuing Education provider for the California Board of Registered Nursing, California State Physical Therapy Association (CAPTA) and the Pilates Method Alliance (PMA).
Certifications | Qualifications
Doctorate of Physical Therapy, 2004
Masters of Physical Therapy, 1997
Pilates Method Alliance: Master Pilates Trainer (Gold Certification) and PMA®-CPT, 2005–present
American College of Sports Medicine, Specialist in Exercise for Cancer; Fitness Trainer, 1988–present
St. Francis Memorial Hospital; Pilates Rehabilitation Trainer, 1988
American Council on Exercise; Group Fitness Trainer, 1988–present
Moms on the Move, Pre-& Post-natal Exercise, 1988
State of California Teaching Credentials: College-level Dance; Physical Fitness Older Adults, 1980
Go here for a full, downloadable Curriculum Vitae, and here for a short Bio, suitable for inclusion in publicity materials.
[/vc_column_text][/vc_column][/vc_row]